We all rely on quarrying, often without realising it, but out of quarries come the materials that support the construction of our homes, hospitals, roads and more. Find out about society's many uses for mineral products using the links on this page.
The mineral products industry provides nearly 30,000 jobs directly across the UK in a staggering variety of roles and supports even more indirectly through the industry's spending on services. If you have been thinking about career options after you finish your study, then you may like to think about quarrying. Explore our site to find out about the roles we offer, what qualifications are typically needed and find out about how people like you have succeeded in the industry.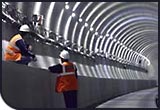 Like what you see? Why not sign-up to hear from the many companies across the UK that are looking for new recruits?
> Register Your Interest
> About the Industry
> Post College 18+ Case Studies
> Post College 18+ Job Roles