Out of quarries come the materials that we need to build our homes, school, hospitals, roads and much more. You may not have realised that quarrying is behind many of these every day things that you take for granted. Read more about the industry using the links on this page.
Such an important industry relies on great people behind the scenes in a mind-blowing number of different jobs from environmental specialists to engineers, and from mechanics to IT specialists. If you're thinking about a rewarding career in a major industry, then a career in quarrying could be for you.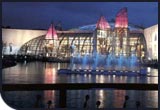 Have a look at our case studies to find out what people like you have achieved with us and register your interest in hearing from companies that are recruiting today!
> Register Your Interest
> School Leaver 16+ Case Studies
> School Leaver 16+ Job Roles
> About the Industry