Any technical, factual enquiries relating to the site should be made the Mineral Products Association. Contact us on 020 7963 8000, email us at info@mineralproducts.org or write to us at the address below, for the attention of the Communications Manager.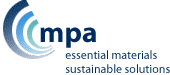 Mineral Products Association
Gillingham House
38-44 Gillingham Street
London
SW1V 1HU
You can find out more about the organisations involved in developing this site by visiting our Who We Are page, or view our website disclaimer.